So I'm trying my first blog from my iPhone and possibly might be creating a monster!
Today was pretty boring and same old at work except fir the fact that it was over 80 degrees in my lab today! Needless to say that made me sweaty/ sleepy/ uncomfortable all day but I dud get some work done. I finished working up a reaction and started 2 more. Woo!
I went to group meeting tonight and managed to not fall asleep like I did last week. I got home about 7 and went to work on chopping up my thawed chicken boobs, asparagus, tomatoes and basil. I put all of this goodness on a cookie sheet, sprinkled Rosemary, salt and pepper and sprayed olive oil all over it and baked at 400 for a half hour. This is the deliciousness that was the result.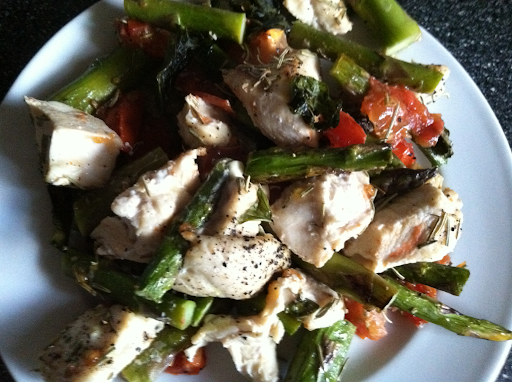 I also had a few bites if cookie dough and a roll. Then I went to the Wallmarche and got bananas for my oatmeal in the morning.
How
was ur day? Did u have anything good fir dinner?
Can u tell a difference from me posting on a computer vs. My phone? Please let me know what u think!